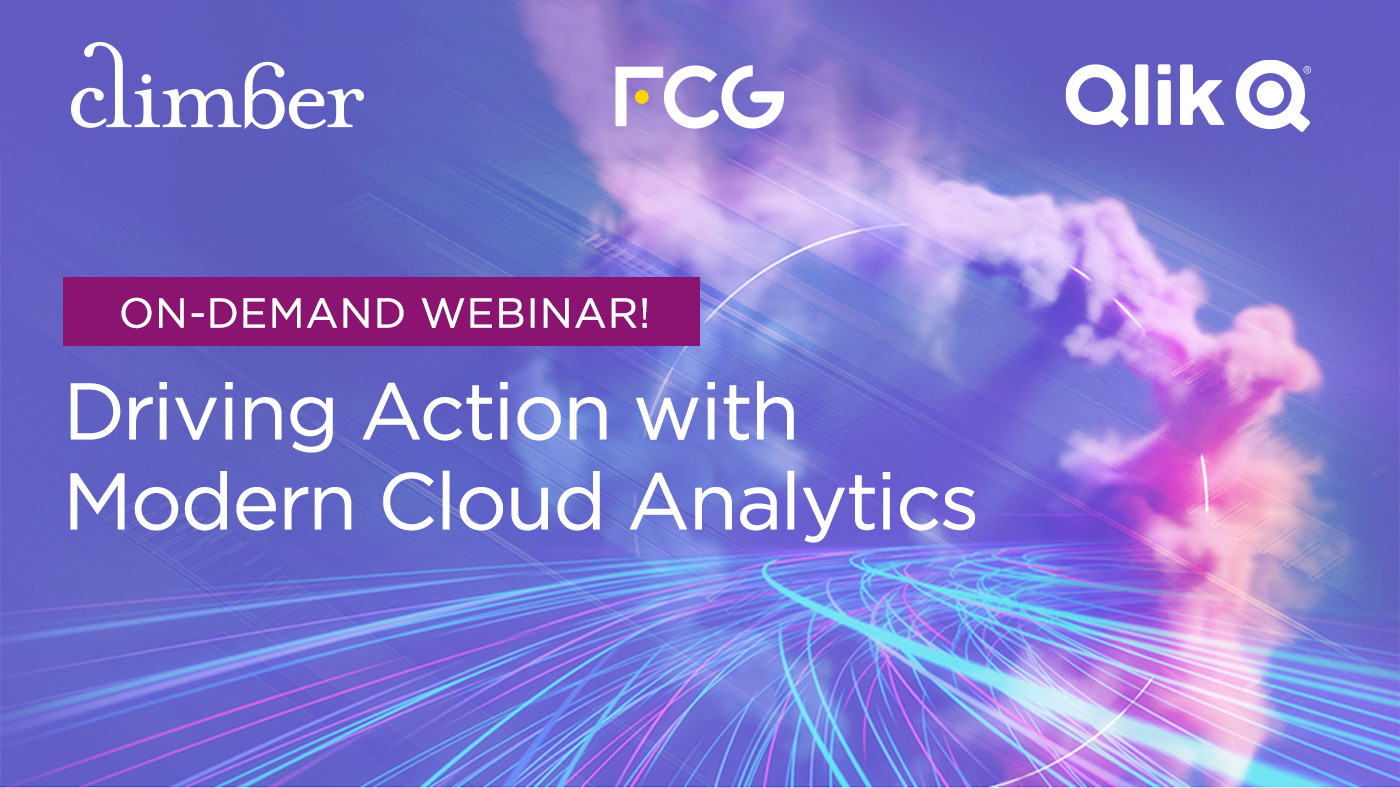 – ON-DEMAND EVENT –
Qlik Cloud Data
and
Analytics Tour with Climber – Driving Action with Modern Cloud Analytics
JOIN THIS YEAR'S EDITION OF OUR 2020 SUCCESS – QLIK ANALYTICS TOUR – ON-DEMAND
Everyone's talking about the cloud, but is it really a one fits all approach? And as easy to adopt as they say? Pair up with us for a day packed with advice on why and how to approach the cloud. Get a first hand experience of the value it can add to your business and previews of exciting new Qlik features.
Thinking about taking the leap to the cloud? –
This is the perfect place to start your journey
Join us on June 8th, at Qlik Cloud Data and Analytics Tour by Climber, to navigate a path to cloud for your analytics. We'll give you a heads up on the latest features. Discover how to launch, scale and get remarkable results from your cloud analytics faster. Hear about our customer FCG and how they with our hybrid offering started leveraging Qlik Sense Saas for faster insights. See how you too can make the move, at your own pace, learn how you can enjoy the experience of Qlik as a Service with your on prem solution and in parallel get the benefits of Qlik Sense SaaS functionality – as it's not a one fits all experience but rather a very individual one.

AGENDA
9.30–10.00 CEST Welcome to Cloud Data and Analytics Tour by Climber
Get a walk-through of the day with Eva Chrona, CEO of Climber Sweden. 
 Qlik Keynote & Demo: Driving Action from Data Analytics in a Cloud Oriented World
The past scarcity of data and analytics, resulting in delayed action, has now become an overabundance of data and analytics, possibly leading to analysis paralysis. By bringing data and analytics processes into business processes, driving collaboration and informed action, this abundance can compel action ― creating data driven organizations. See how Qlik's modern analytics, cloud first approach is rapidly delivering on the promised value of a data driven organization with active intelligence.
Speaker: Magnus Petersson-Ahrholt, BI Manager, Climber. 
10.15–10.25 Leveraging Qlik Sense SaaS – The Climber Way
The upsides of going SaaS are many, having a system that's always up to date with the latest features must be one of the greatest advantages. Hear from Jonas Grundström, BI Manager, Climber Sweden how we helped our customer FCG, who's already enjoying Qlik as a Service in our Climber Cloud (MQS) start leveraging the continuously added functionality that Qlik Sense SaaS offers. 
10.40–11.00 Moving to the Cloud, keeping one foot on solid ground – The Climber Hybrid Offering
Everyone "knows" the cloud is the place to be, it's more flexible, agile and opens up opportunities for innovation. With IT departments taking on a cloud first strategy there's a need for the BI environment to do so too. Who wants to be left behind? We all want lower TCO, access to the latest features and a scalable environment. But it's not that simple – or is it?
In this session Johan Levander CTO & Head of Expert Services, Climber will let you in on the advantages as well as the challenges of Qlik Sense SaaS. He'll show how we can be your bridge between on-premises and the cloud by customising your set-up, letting you make the move at your own pace and having our Expert Services team take full responsibility for your environment throughout the way. 
Live Q&A
Any questions? Don't be shy! Just pop them in the chat throughout the day and we'll wrap up by answering them.
11.00–12.30 Break
12.30–13.30 CEST Climber Academy Introduction Class – Get a Sense of Qlik SaaS
New to Qlik Sense SaaS? Want to be able to start analysing information and get quick answers to your questions? Join our beginner's class to get an introduction to Qlik Sense SaaS and become familiar with the basic functionality. After finalising this session you're ready to build your own application in Qlik Sense SaaS. Cool, right? Take the chance to ask your questions directly to the trainer. Sign up today to kickstart your data analysis journey!
Teacher: Mikko Jyrkiäinen, Training Manager, Climber Finland.


Climber Academy –
Introduction Class
The tour ends off with a 60 min introduction class to Qlik Sense Saas, a brilliant chance to get a grip of the look and feel. Our experienced Training Manager Mikko Jyrkiäinen from Climber Finland will go through the basic functionality, let you become familiar with the tool and set you up with knowledge on how to build your own applications in Qlik Sense SaaS.
You'll have a chance to ask any questions that pop up during the introduction class at the live Q&A ending this session.
This session is unfortunately not available on-demand. If you are interested in on-line Qlik Training with the Climber Academy, you can check out our offering here!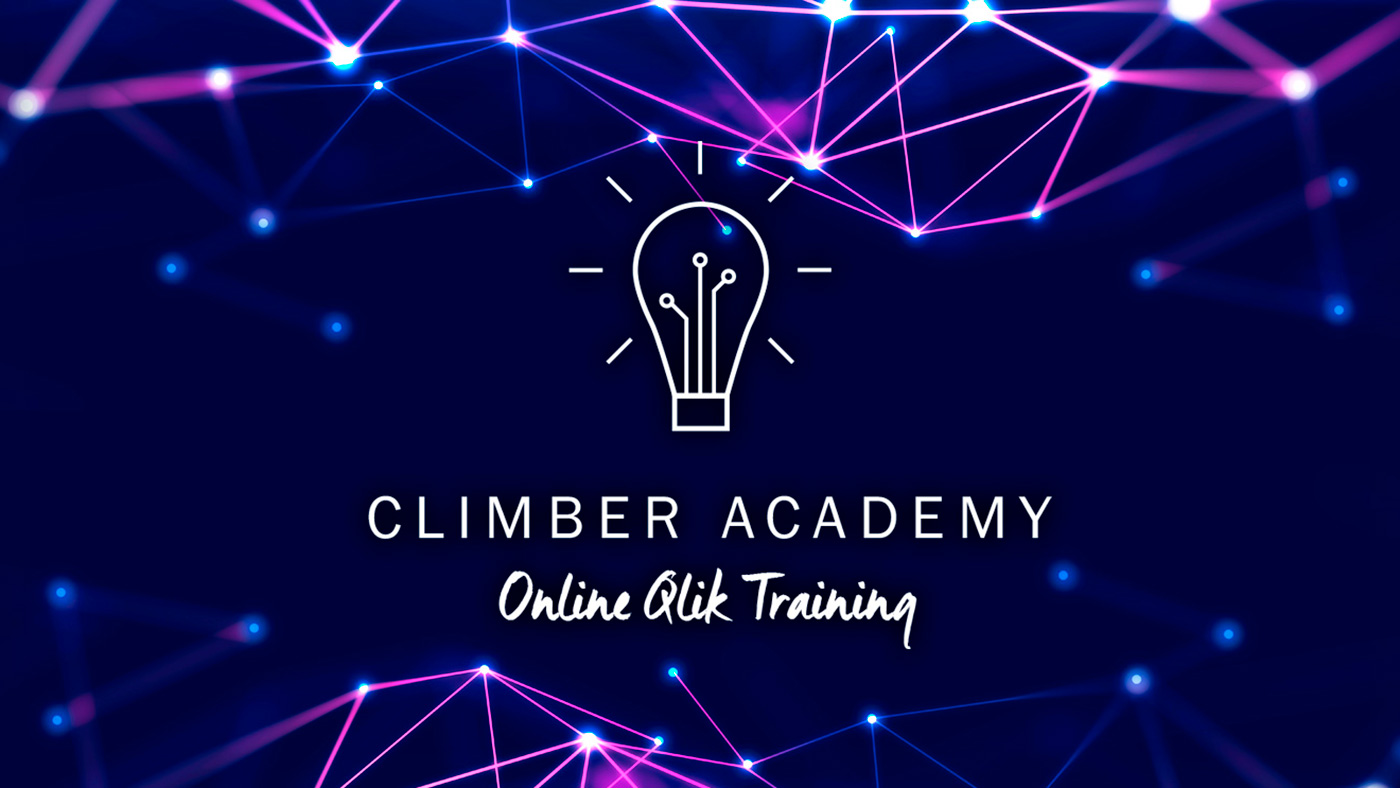 SIGN UP FOR THE QLIK CLOUD DATA AND ANALYTICS TOUR!
Thinking about attending just one event to explore your possibilities? Pair up with us, we've just been awarded Top SaaS Partner of 2020 by Qlik! Sign up via the button below to watch the recording at a time that suits you.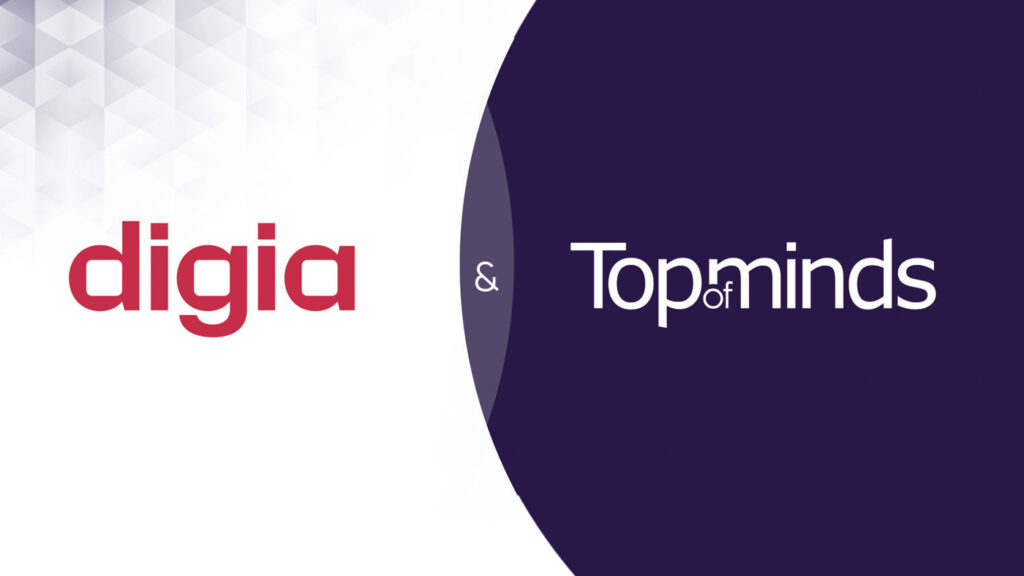 Nieuws
21 September 2023: Digia reinforces its position as a Northern European Powerhouse in Data Analytics by acquiring Top of Minds, a Swedish IT consulting and service company. Top of Minds has expertise in both modern data analytics and classic data warehousing, front end analytics, and integration – a perfect combination with Climber's offering.
>> Read more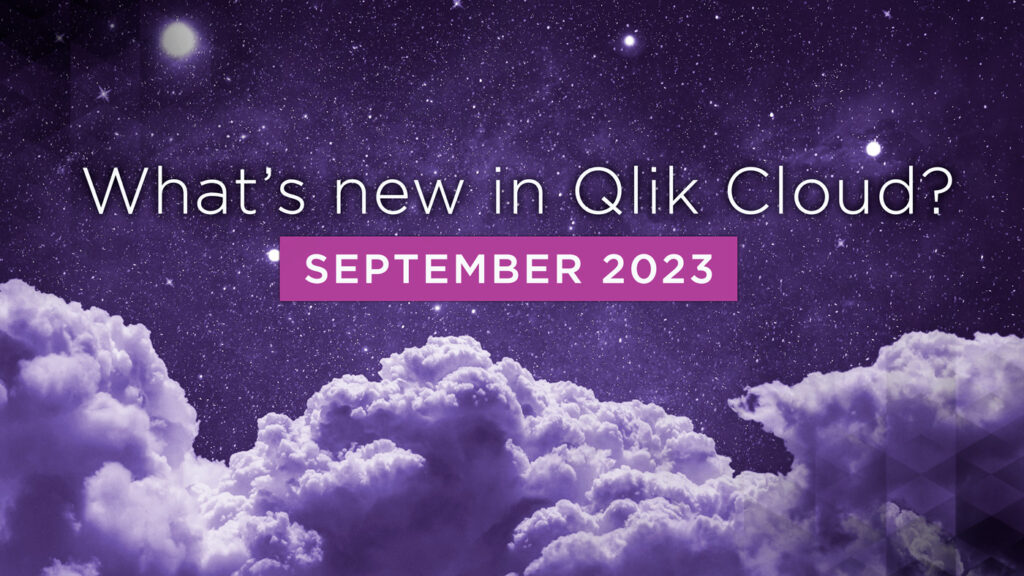 Blog
The latest updates focus on enhancing efficiency, scalability, and governance in data tasks, making Qlik Cloud an ever more powerful tool for organisations to manage their data operations. Let's dive into the key features and advancements introduced recently.
>> Read more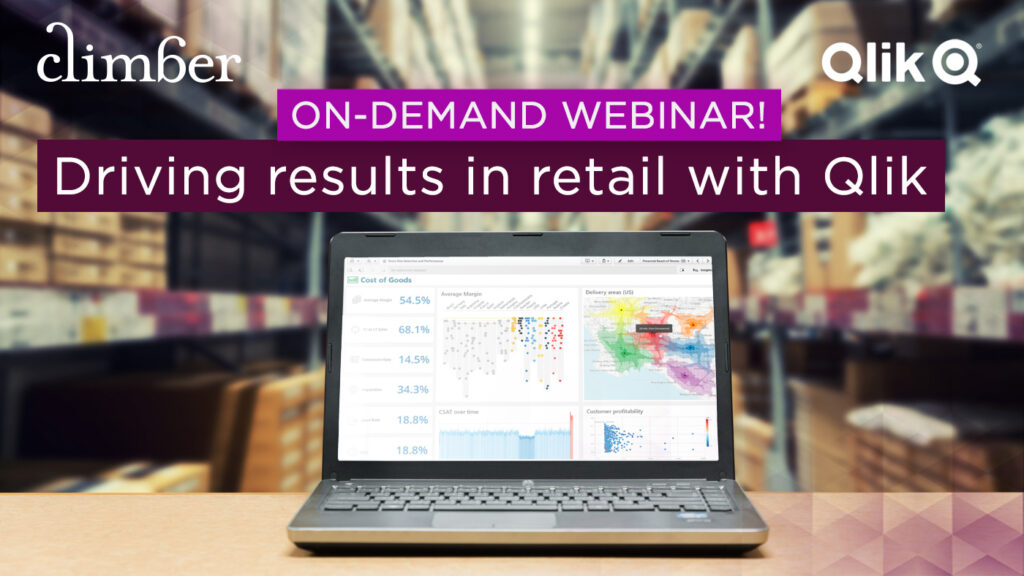 On-Demand Webinar
Sign-up to our 'Driving results in retail' on-demand webinar to learn how Qlik is delivering insights that are informing decision-making and helping to keep stock on the shelves.  
>> Sign me up!