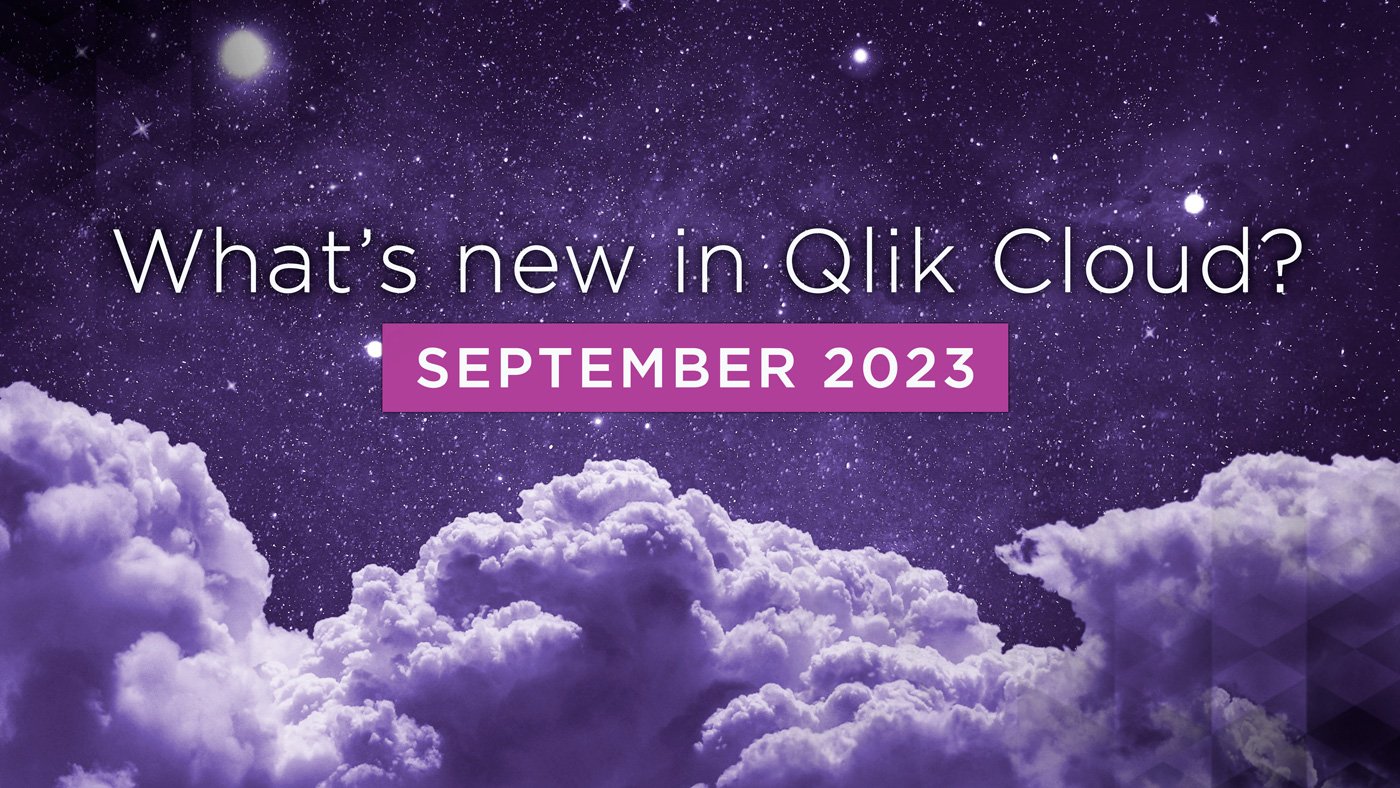 What's New in Qlik Cloud
– September 2023 Updates –
Welcome to the first in a series of monthly blogs from Roger Gray and Mark James of Climber to provide an update on the latest and greatest in new features, added to the Qlik Cloud Platform. In each blog we will outline exciting updates to Data Analytics and the Data Integration Services.
Data Analytics: Maximising Efficiency and Governance in Qlik Cloud
In the ever-evolving landscape of data integration and analytics, Qlik Cloud continues to shine with its comprehensive suite of features and continuous innovation. The latest updates focus on enhancing efficiency, scalability, and governance in data tasks, making Qlik Cloud an ever more powerful tool for organisations to manage their data operations. Let's dive into the key features and advancements introduced recently.
1. New Pricing and Packaging Model
Qlik has revamped the pricing and packaging model around the concept of Capacity, offering three distinct editions: Standard, Premium, and Enterprise. This new approach provides the customer with the freedom to choose the edition that aligns perfectly with their unique requirements and aspirations. Data and Users are the cornerstones of the Capacity model. The amount of data you possess and the plans for bringing data into Qlik Cloud are pivotal factors in selecting the right edition for your organisation. This user-centric approach ensures that customers pay for what is needed, with the flexibility to scale as the usage evolves.
>> Qlik Pricing
>> Data Capacity Detailed Application – Brief Demonstration
2. Connectivity to Azure OpenAI Service
Customers can now directly connect to OpenAI through Azure, making it easier to leverage generative AI capabilities. This integration opens new avenues for data analysis and insights using advanced AI-powered techniques. ChatGPT showcases the prowess of AI in natural language understanding, bridging the gap between human communication and machine intelligence. As these advancements unfold in tandem, a new era of seamless human-AI collaboration emerges, promising to reshape industries and revolutionise the way we interact with both data and language.
>> Azure OpenAI analytics source
3. Enhanced Visualization Customisation
Qlik Cloud's analytics and visualisation capabilities continue to receive a boost with expanded styling options for the KPI object. Now developers can customise name and value labels, including font styles and colours, adding a new layer of personalisation to dashboards. The KPI visualisation is typically one of the most prominent on a dashboard layout, this enhancement helps to set the brand image of the dashboard.
>> Creating KPIs
4. Enhancement to Automation Webhooks
The Qlik Automation start block is enhanced to simplify the process of setting conditions when reloads fail, enabling more efficient troubleshooting and alerting mechanisms. This functionality enhances overall automation visibility, to ensure reliable data loading.
>> Working with webhooks
5. Enhanced Business Glossary
Qlik Cloud's business glossary has gained new capabilities, including the ability to associate terms with master measures and dimensions, and pop-up term definitions. The pop-up enhancement will improve data understanding and collaboration among users, especially useful to organisations undertaking a self-service development approach.
>> Linking terms to master items
6. Public Collections
In Qlik's ongoing commitment to improving the user experience with Qlik Cloud, they have introduced a game-changing feature: public collections. Public collections are designed to seamlessly integrate with space access control. This means that users will automatically see collections if they have access to at least one piece of content within that collection through space membership. Furthermore, their access is finely tuned to ensure they only see the content they have permission to view.
>> Collections
7. Encryption Key Management
For those organisations that operate in a highly regulated industry, a significant addition to Qlik Application Automation was introduced. The AWS Key Management System (KMS) connector facilitates the management of cryptographic keys used for data protection within your tenant. This connector offers a range of essential operations, from key creation to policy management, enhancing security and compliance measures.
In addition to help with key management a new Qlik Automation block is introduced for Customer Managed Key (CMK) Provider blocks. The new blocks have been incorporated to support the automation of Customer Managed Key (CMK) encryption key lifecycle tasks using the Qlik Cloud management APIs.
>> Qlik Platform Operations connector overview
8. Introduction of Large Apps
Qlik Cloud Dedicated Capacity and Expanded Apps is now replaced by Large Apps, Large Apps simplify scaling and improve space configurations for handling larger data sets and apps. This change streamlines management and performance optimisation.
>> Large app support
Now we move on to look at the latest updates to the other part of the Qlik Cloud Platform, with Data Integration services provided by Qlik Cloud Data Integration.

Data Integration: Connecting to more On-Premise and SaaS data sources
1. More SaaS application connectivity
Qlik Cloud Data Integration introduces 20+ new connectors for full and incremental load from popular sources like Adobe Analytics, Microsoft Dynamics 365, Jira, Salesforce, SAP Concur, Shopify, SugarCRM, Workday, and more.
With this latest update, this opens up Qlik Cloud Data Integration to a wider range of sources, adding to the range of cloud based relational database sources. This will allow Qlik customers to address both cloud-based data sources and SaaS data sources.
Qlik have also released the Qlik Connector Factory which offers more connectors within Qlik Cloud Data Integration for SaaS applications with a focus on health information technology and digital advertising applications, such as Cerner Millenium, Epic on FHIR, Facebook Ads, Facebook Pages, Salesforce Pardot, SAP Commerce Cloud and Zendesk.
These new connectors from the Qlik Connector Factory are Generally Available (GA) but are tagged as Preview because many cover a specific use case. At the point that the capabilities are expanded for multiple use cases, the preview label will be removed.
This latest release of SaaS application connectors continues to enhance the breadth and depth of data sources which the Qlik Cloud Data Integration platform. This allows for users to address continuously more use cases with the wider breadth of connectors now available.
>> Connecting to SaaS applications
2. Support for Private connections in Qlik Cloud Data Integration
Qlik Cloud Data Integration now offers the capability to access data sources which are only accessible through a private connection. Example data sources include Snowflake AWS PrivateLink or Microsoft SQL Server running in a VPC.
This support for data sources which are only accessible behind a private connection, extends the wide range of data sources which Qlik Cloud Data Integration supports. Qlik continues to enhance support for sources to be addressed as part of a Qlik Cloud Data Integration project.
3. Support for SQL Server On-Premise as a Target
Customers can now land data from any supported source to any version or deployment type of an on-premise SQL Server.
With this latest addition to Qlik Data Integration, it allows customers who potentially have investments in an on-premise SQL Server which stipulates that they need to use SQL Server as their chosen Data Warehouse target.This could be an interim solution to use SQL Server in the interim, whilst they are assessing their plans for a cloud-based Data Warehouse or allowing them to use SQL Server as a Data Warehouse on a long-term basis.
4. New Qlik Data Movement Gateway
This new version of the Data Movement Gateway has an improved driver installation utility for supported data sources and has overall stability and performance improvements. It also includes an improved driver installation utility for SAP clients.
The Qlik Data Movement Gateway continues to be updated and improved. In the latest updates, it allows for a much faster deployment, with a new and improved installation utility for drivers to typical data sources, such as MySQL, and now also SAP clients. This latest update will allow customers to access their data and begin with their data automation projects much faster.
5. New connectors for Qlik Application Automation
New connectors for Talend Cloud, SugarCRM and PagerDuty have been released.
This latest addition to Qlik Application Automation extend the range of capabilities which Qlik Application Automation offers, and sources which are addressed. In particular, the Talend Cloud connector is the first step in the integration of Talend products into the Qlik Data Integration platform.

Conclusion
Qlik's recent updates reaffirm its commitment to providing robust data integration, analytics, and automation solutions that empower organisations to make informed decisions. From enhanced security measures to streamlined integrations with SaaS applications, Qlik Cloud is continuously evolving to meet the demands of modern data-driven enterprises.
WANT TO KNOW MORE? CONTACT US!