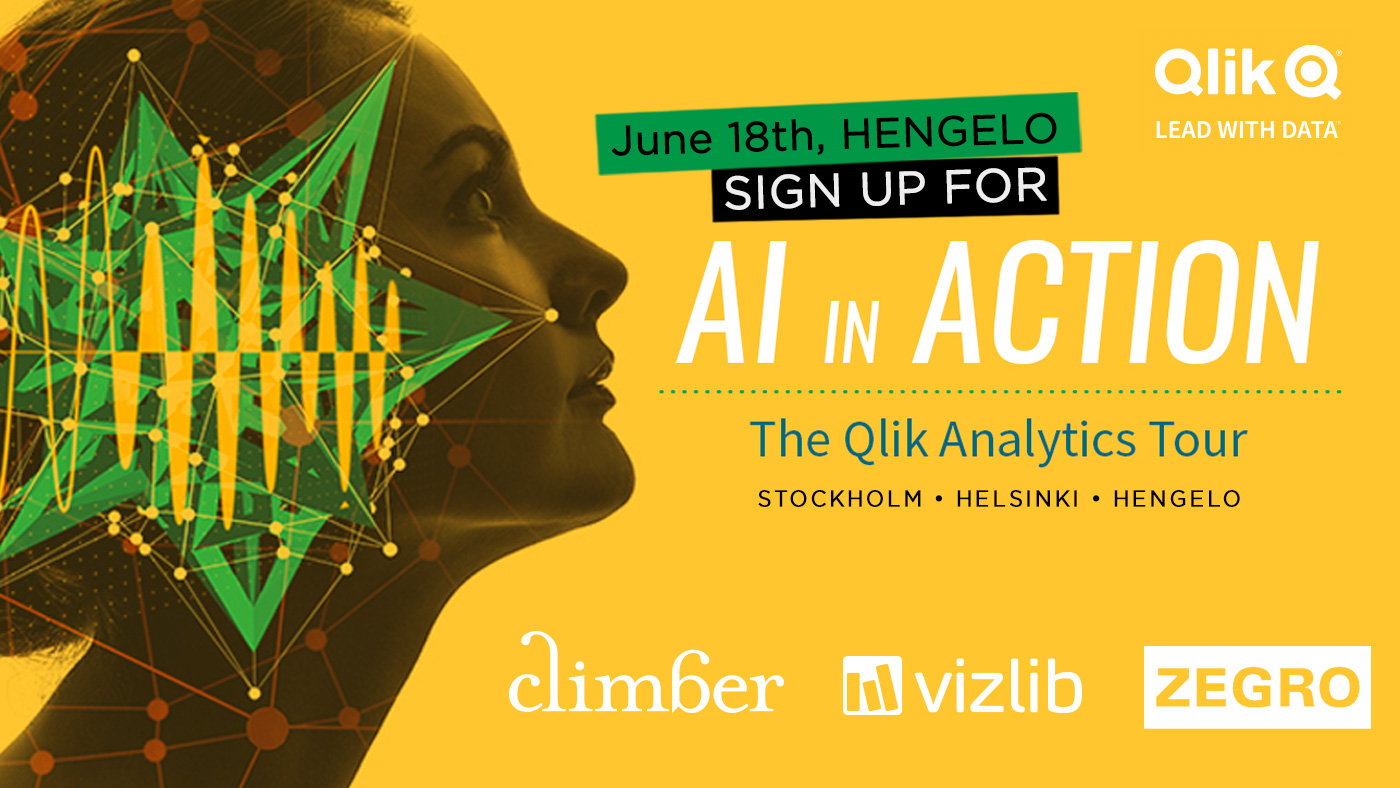 EVENT – QLIK ANALYTICS TOUR – HENGELO JUNE 18TH
You've heard enough about AI. Now see it in action.
Looking for fresh approaches to using data ― and using it to lead? Wish you could give everyone in your organization the power to drive a competitive edge? Join us for AI in Action: The Qlik Analytics Tour, where we'll explore the revolutionary new ways businesses are using the Qlik Sense analytics platform to transform, reinvent, and pull ahead of the pack.
Be among the first to learn about Qlik's powerful AI capabilities, Cognitive Engine, and Augmented Intelligence approach. And join a passionate group of data and analytics leaders with the expertise to share. You'll leave with fresh insights and solutions that will surprise your business.
Join us at the tour to:
See how to use Qlik Sense for business transformation and check out all the latest features.
Discover the power of Augmented Intelligence and learn how it works in Qlik.
Check out our latest Qlik Sense Extensions – the Climber Extensions and the Vizlib Library – and how they will improve your Qlik Sense experience.
Hear from our customer Zegro how they use Qlik Sense and extensions to increase business value.
Try Qlik Sense! Join our beginners' workshop and get to know the tool.
Practical Information

Date: Tuesday June 18th
Time: 10.00–14.00, optional workshop 14.00–16.00
(Breakfast will be served from 9.30)
Location: Climber Benelux, Hengelo
AGENDA

09.30 Registration & Breakfast
10.00 Welcome to the QAT with Climber!
Welcome, introduction and agenda. 
10.15 AI in Action: Get the most out of AI with Qlik Sense! – Keynote & Live demo
With the Qlik Cognitive Engine, you'll get the most out of AI. Join this session and learn about Qlik's powerful AI capabilities, the Cognitive Engine, and their Augmented Intelligence approach. Check out all the latest features in Qlik Sense in our live demo. Nick Rondeel, BI Manager at Climber, will show and explain how you'll benefit and drive competitive edge.
11.15 Coffee Break
11.30 Customer Success: BI & Qlik Sense @Zegro
Hear from Bülent Sel, CFO, and Marijn Kamp, CIO, at Zegro, how they are working with Qlik Sense and extensions to enable self-service BI to increase business value. 
12.15 Lunch
13.00 Extensions for Qlik Sense – Climber Extensions & The Vizlib Library
More is more! Martin Mahler, CEO at Vizlib, will show you all our latest and greatest extensions for Qlik Sense and how they will help you get the most out of your investment in BI.

14.00–16.00 Qlik Sense Beginners' Workshop – OPTIONAL
Try Qlik Sense! Join our beginners workshop and get to know Qlik Sense. Learn the basics features, get familiar with the navigation and build your own application, adding your own data. You also learn how to add and work with extensions in Qlik Sense.
Sign up today and bring your laptop! 

Don't miss your chance to get hands-on exposure to the newest and most exciting innovations in analytics. The event is free, and spots are limited.
Event
Sign up for our 45 min webinar with DataRobot, Feb 12, on how integration with Qlik will enable use of predictive analytics to the full and gain proper business value.
>> Sign up here!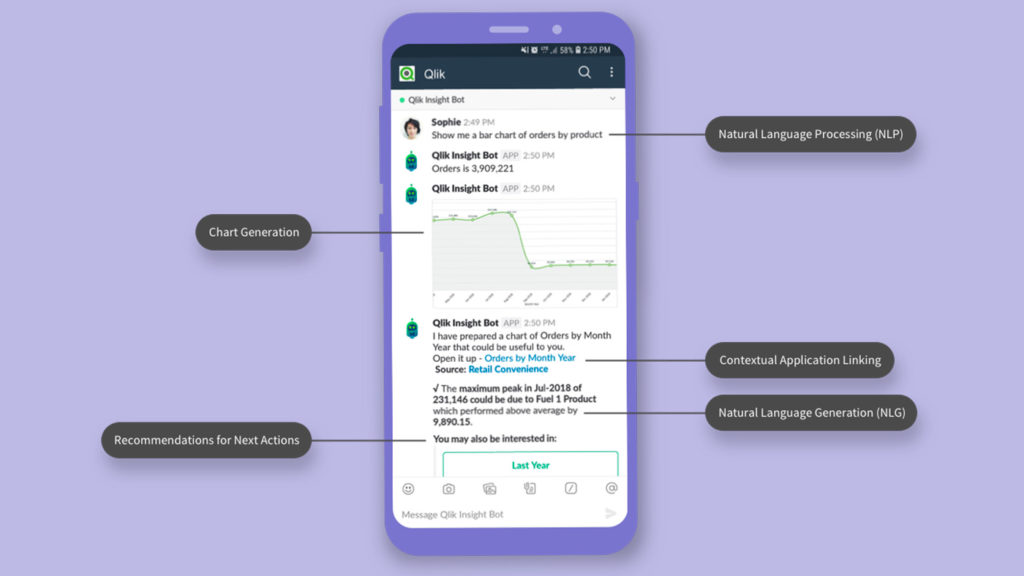 Climber Blog
Een chatbot die aan de hand van jouw vraag bijpassende data ophaalt, waar je ook bent? Het bestaat! Qlik introduceert een nieuwe tool die – dankzij een koppeling met jouw Qlik dashboard in combinatie met kunstmatige intelligentie – jou op elk gewenst moment van de meest belangrijke data en inzichten kan voorzien.
>> LEES MEER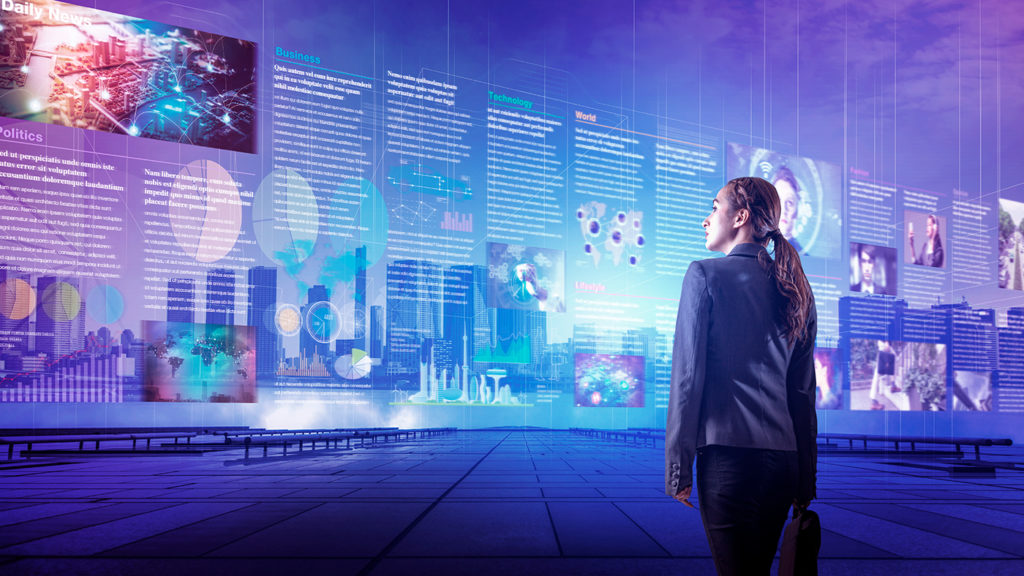 Climber Blog
Steeds meer bedrijven maken gebruik van Business Intelligence. BI-tools zoals Qlik Sense maken het steeds eenvoudiger om inzichten te genereren die de basis vormen voor gegronde beslissingen. Hoewel de tools voor steeds meer mensen beschikbaar worden, blijkt dat niet alle gebruikers beschikken over de capaciteiten om data te lezen, te begrijpen en te beargumenteren.
>> LEES MEER